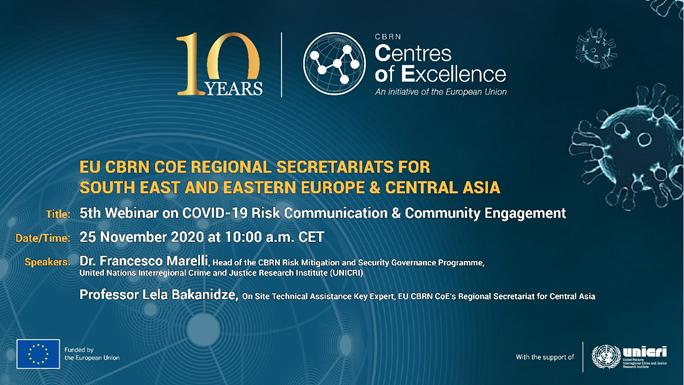 Sixty participants attended the interregional online webinar which was held on 25 November 2020. This event brought together National Focal Points, CBRN national experts, representatives of the relevant ministries and agencies coming from both SEEE and CA regions, as well as representatives of the European Commission and the United Nations Interregional Crime and Justice Research Institute (UNICRI).
The webinar was opened by Mr. Sorin Popa, CBRN CoE Programme Manager, EU CBRN Risk Mitigation Centres of Excellence of the European Commission (EC). He underlined the fact that the idea of hosting a series of webinars along with its content came into being after receiving feedback from Partner Countries of the South East and Eastern Europe region, as part of their response to the European Union's CBRN Centres of Excellence Survey on National Needs and Support during the COVID-19 Crisis. The Survey was disseminated in April 2020, whereby ten Partner Countries of the SEEE region prioritised their individual country response and additional needs that were identified to fight the COVID-19 pandemic. These series of webinars represent a complementary support to our Partner Counties in addition to fully funded projects within the framework of the EU CBRN CoE Initiative.
Two experts from the UNICRI and the EU CBRN CoE Regional Secretariat for Central Asia were invited to speak about risk mitigation and community engagement. The webinar experts shared their valuable experiences in this area, which instigated a lively discussion of participants.
Dr Francesco Marelli, the UNICRI's Head of Unit in charge of the Knowledge Center Security through Research, Technology and Innovation (SIRIO) in Geneva, shared his expertise about malicious use of social media by terrorist, violent extremist and organised criminal groups during the COVID-19 pandemic. He highlighted about increase in online and digital activities of misinformation and disinformation. Very often there are violent non-state actors (Organized Crime, Right-Wing and Religious Extremists) who stay behind proliferation of "fake news", aimed to reach strategic objectives in undermining trust in government, expanding their recruitment network, inspiring ideas of terrorism and promoting positive image of their organization.
In her presentation, Professor Lela Bakanidze, On-Site Technical Assistance Key Expert from Georgia, highlighted that risk communication and community engagement are essential components of a broader health emergency preparedness and response action plan, which includes communication includes the range of communication actions required through the preparedness, response and recovery phases, in order to encourage informed decision making, positive behavior change, and the maintenance of trust. Professor Bakanidze updated participants about challenges, key considerations, channels and tools of communication, and key messages aimed to target specific audience during crisis communication.
Since the second half of 2020, the Regional Secretariats for SEEE and CA organised five interregional online webinars focusing on the COVID-19 Case and Contact Management, Clinical Case Management and Infection Detection and Control, Risk Communication and Community Engagement, and two webinars on Laboratory Diagnostics and Virology. One additional concluding webinar for this year will address the COVID-19 Interagency Coordination, which will be held on 2 December 2020. The inter-regional webinars are conducted with simultaneous English-Russian interpretation provided with support of the EU CBRN CoE Project 53.
Details
Publication date

26 November 2020

Author

Location

Brussels
CoE Region

CA - Central Asia

SEEE - South East and Eastern Europe