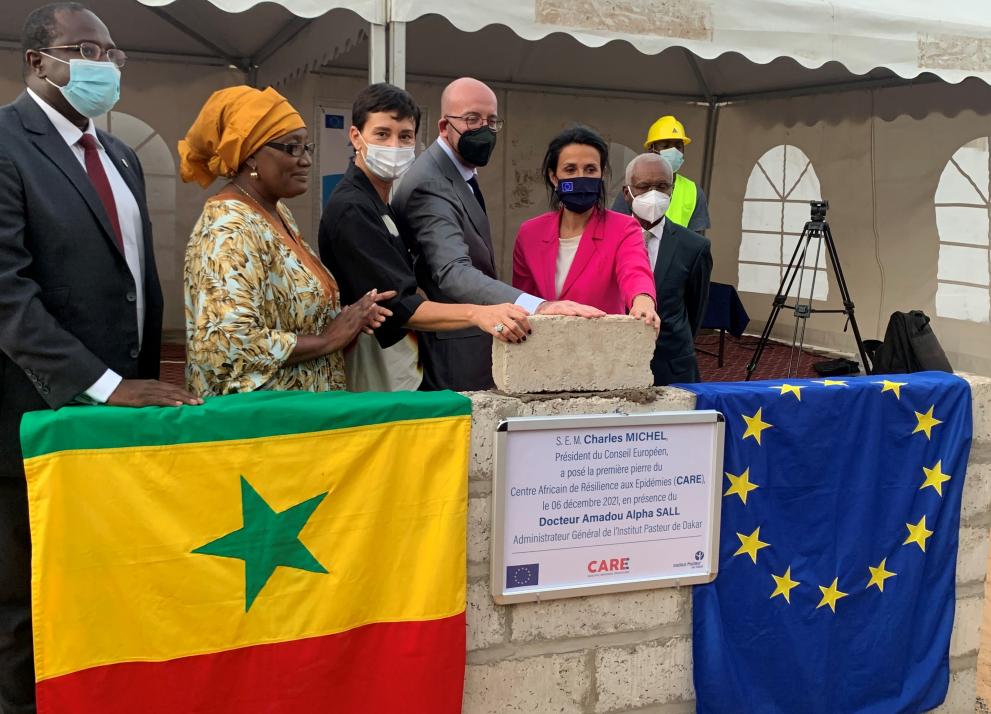 On Monday 6th December, the foundation stone was laid for the African Centre for Resilience to Epidemics CARE at the Pasteur Institute in Dakar, Senegal. The President of the European Council, Mr. Charles Michel, attended the ceremony.
Launched with the support of the EU CBRN CoE initiative, the CARE Centre of Excellence will be a benchmark in terms of safety and biosecurity, with expertise in the most efficient technologies. Its mission will also be the development of new disease control strategies that will strengthen the response to epidemics.
The CARE is part of the project LABPLUS Africa, funded by the EU Service for Foreign Policy Instruments and delivered on behalf of the EU CBRN CoE by the consortium partners Praesens Foundation and the Fondation Institut Pasteur de Dakar (IPD).
LABPLUS Africa offers a strategic framework to strengthen the COVID-19 response in Africa. Overall, it will implement an innovative approach to health services by upgrading the IPD facilities to accommodate new control technologies, and provide specialised training for the whole region.
Details
Publication date

10 December 2021

Authors

Location

Dakar
CBRN areas

Bio-safety/bio-security

Crisis management

Protection of material/facilities

Public and infrastructure protection

Public health impact mitigation

CBRN categories

Chemical

Biological

CoE Region

AAF - African Atlantic Façade