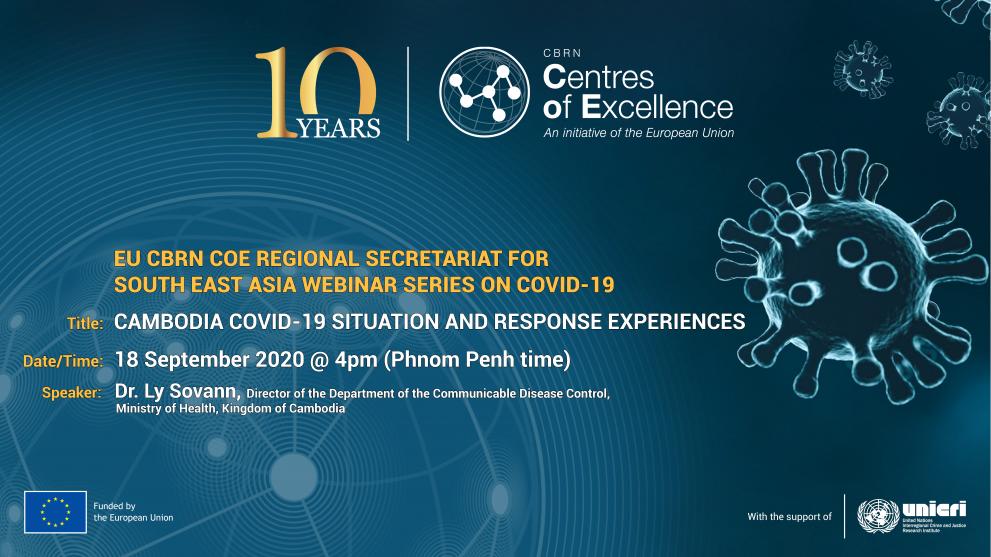 On 18 September 2020, the Regional Secretariat for South East Asia (SEA) of the European Union Chemical, Biological, Radiological and Nuclear Risk Mitigation Centres of Excellence Initiative (EU CBRN CoE) hosted the ninth webinar in its series dedicated to sharing knowledge and experience on COVID-19.
The webinar, "Cambodia COVID-19 Situation and Response Experiences", was opened by Dr. Alexander Hamilton, CBRN CoE Regional Coordinator for South East Asia, United Nations Interregional Crime and Justice Research Institute (UNICRI).
Following brief opening remarks, Dr. Hamilton introduced the guest speaker, Dr. Ly Sovann, Director of the Department of Communicable Disease Control, Ministry of Health, Kingdom of Cambodia.
Dr. Sovann's presentation briefly described how COVID-19 entered the country, followed by a detailed account of how national authorities have applied preparedness, risk assessment, multi-source surveillance, and contact tracing to control the spread of COVID-19.
Several best practices, including the importance of strong leadership to ensure a whole-of-government and whole-of-society response, were cited as especially important to successfully combating COVID-19.
In addition to benefiting from strong international cooperation and solidarity, Cambodia has developed and mobilised funding for a "National Master Plan for COVID-19" to cover nine technical areas, including: incident management and planning, surveillance and risk assessment, laboratory, clinical management and health care services, infection prevention and control, non-pharmaceutical public health measures, risk communication, points of entry, and operational logistics.
These areas were described as critical for preparing for and responding to COVID-19 and future pandemics at the national, provincial and district levels.
Dr. Sovann's concluding remarks touched upon three primary lessons learned:
Preparedness is the best way to minimize health, social and economic impacts caused by a pandemic,
Setting up a strong health system is a crucial requirement in managing COVID-19 and other future health emergencies, and
It is important to adapt to a new way of living, working and interacting with each other and minimise health risks whilst allowing for economic activity.
The webinar was attended by biological experts from across SEA, representatives from the EU, UN agencies, including the World Health Organization (WHO), and INTERPOL, among other international organisations and partners.
Details
Publication date

18 September 2020

Author

Location

Manila