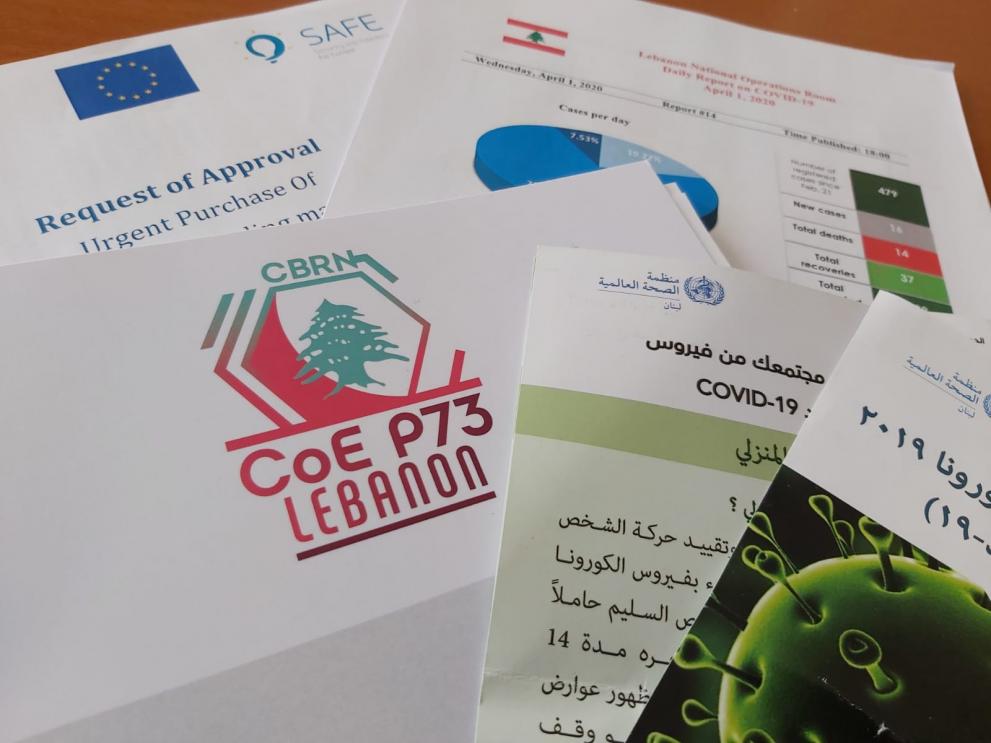 When the COVID-19 pandemic started, the biological aspect came to the forefront of P73 activities to address urgent needs of the beneficiaries and ensure a maximum relevance of the project.
In Lebanon, the Grand Sérail received training and materials on biological risks and to carry out their tasks in a pandemic environment. With the additional budget provided by the EU, 12 hospitals in the country were assessed in support to the CBRN Commission and Ministry of Health, to identify the capacity and gaps to treat COVID-19 cases. Additional training will be provided.
The project has delivered 3 portable decontamination machines and an air sampler to re-operationalize the Grand Sérail. In the framework of P73, all MIE countries (Iraq, Jordan, Lebanon) received web-based training videos to train hospital personnel. Existing training videos from the EU were adapted to the local situation. In Iraq support was given to sample wastewater in Baghdad to determine the distribution of COVID-19 contamination in the various neighborhoods.
In response to 4th August explosion in Beirut, P73 team supported first responders in the Grand Sérail, as well as CBRN Commission specialists. Through the additional budget granted by the European Union, chemical specialists recruited conducted assessments on key facilities considered potentially dangerous by the judicial authorities.
The advisory role of P73 extends to the coordination with other donor-funded initiatives to guarantee the appropriate removal, storage or disposal of the identified products. Despite the overall situation, in Lebanon the P73 remained always active and has also conducted, six training sessions focusing on Chemical, Radiological and Biological risks, 2 on CBRN awareness and 1 Training on alert system and containment, targeting altogether over 100 participants in total.
The project also prepared several SOPs and conducted a feasibility study on the Grand Sérail Ballistic Protection.
Details
Publication date

7 January 2021

Author

Location

Beirut
CoE Region

MIE - Middle East