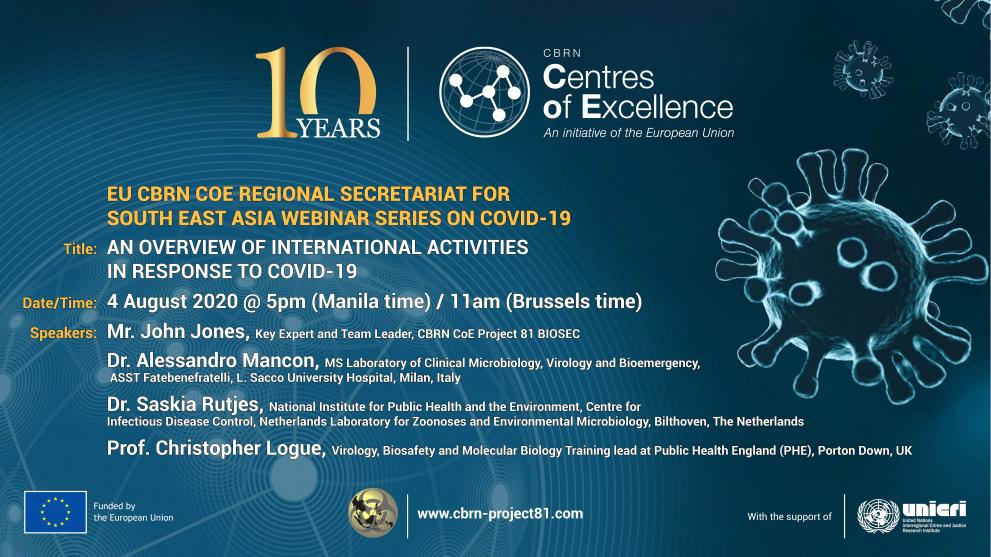 On 4 and 18 August 2020, within the framework of the European Union Chemical, Biological, Radiological and Nuclear Risk Mitigation Centres of Excellence Initiative (EU CBRN CoE), the Regional Secretariat for South East Asia (SEA) and the Project 81 Team (BIOSEC - Enhanced Biosecurity in South-East Asia) co-hosted the sixth and seventh webinars in the regional series dedicated to COVID-19.
The webinars, "An Overview of International Activities in Response to COVID-19" and "An Overview of International Activities in Response to COVID-19 – Part 2", focused on activities in Europe and the wider international community to combat the COVID-19 pandemic.

The webinars were opened by Mr. Florentino Manalastas Jr., Head of the Regional Secretariat for South East Asia of the EU CBRN CoE and Officer in Charge at the Anti-Terrorism Council-Program Management Center of the Philippines.
Mr. John Jones from Sustainable Criminal Justice Solutions Europe (SCJS), Team Leader of Project 81, introduced attendees to the project and in particular to the recent addition of a new work package to support participating countries in South East Asia in planning for and developing surge capacity in response to pandemics such as COVID-19.
The 4 August 2020 webinar featured contributions from the following Project Consortium organisations: L. Sacco University Hospital (Italy), National Institute for Public Health and the Environment (RIVM, Netherlands) and Public Health England (UK).
Dr. Alessandro Mancon, L. Sacco University Hospital, described the impact of COVID-19 and the sudden and accelerating demand for analysis of samples from patients at local hospitals in Lombardy, Italy (the area most affected by the outbreak). His presentation was followed by Dr. Saskia Rutjes, RIVM, who discussed ongoing research into levels of the virus in waste water and the possibilities of using this analysis as a potential health surveillance tool.
The final presentation was delivered by Prof. Christopher Logue, Public Health England, and provided insights into his organisation's efforts to support the UK government with scientific advice on public health and the pressures of uncertainties around the validity of the assumptions about the virus and the need to develop and deploy rapid and accurate tests.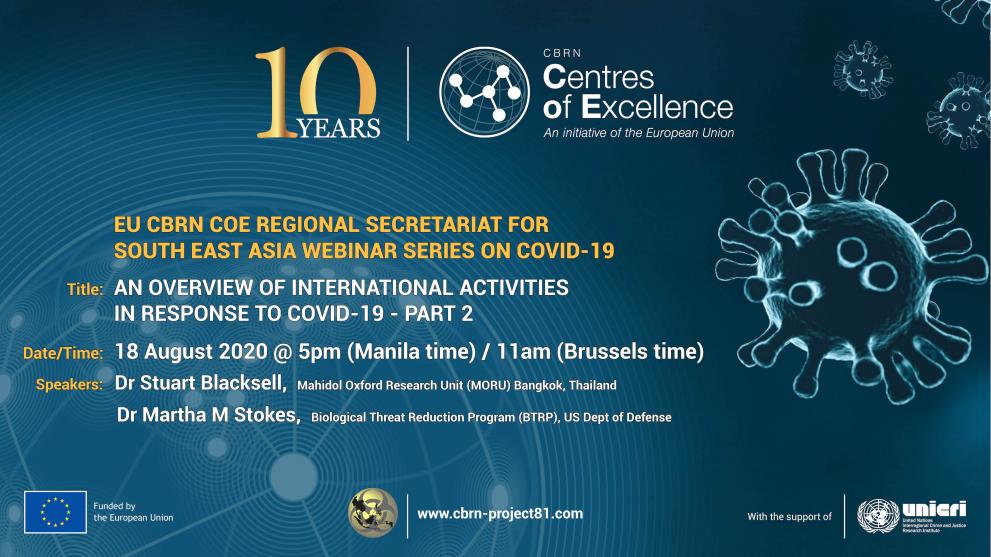 The 18 August 2020 webinar continued the theme of the international response to COVID-19, including actions being taken beyond South East Asia and Europe, and featured contributions from the United States (US) Defense Threat Reduction Agency (DTRA) Biological Threat Reduction Program (BTRP) and the Mahidol Oxford Research Unit (MORU).  
Dr. Stuart Blacksell, Senior Research Scientist of MORU, presented the work being done under the UN Food and Agriculture Organisation (FAO) including the activities being organized by the Emergency Centres for Transboundary Animal Diseases (ECTAD) across the SEA region.
Dr Martha M. Stokes, Regional Science Manager with the US DTRA BTRP, provided an overview of the work of BTRP globally and with individual countries across SEA.
More information on Project 81 can be found at the  website https://www.cbrn-project81.com
Details
Publication date

7 September 2020

Author

Location

Manila