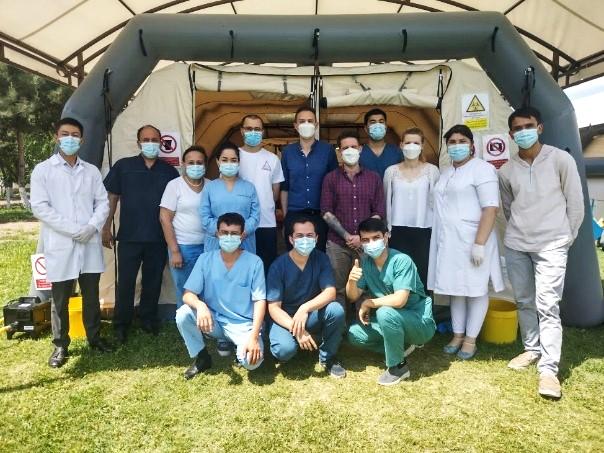 Description and contribution of the EU CBRN CoE
Epidemic outbreaks of infectious diseases pose a substantial risk to public health services, particularly in remote rural areas where surveillance infrastructure is often limited. To support Uzbekistan in strengthening surveillance and outbreak mitigation, the EU CBRN CoE Project 53* enabled the deployment of two rapid response mobile laboratories.
Results and impact
The deployment of the two units was complemented with training for laboratory and health specialists covering all aspects of mobile diagnostics. As follow up, an outbreak of a highly infectious haemorrhagic fever was simulated in two locations, with hundreds of patient samples to be analysed and their results communicated under high time pressure. The exercises proved the readiness of the Uzbek team to mitigate future public health challenges.
Key lessons learned
The project raised awareness, skills and collaboration on biosafety, biosecurity, emergency response and incident management through the advancement of safe and responsible conduct in biological sciences. It extended Uzbekistan's training and diagnostic portfolio and will ensure efforts sustainability until 2025 through a new partnership with the German Foreign Office's Biosecurity Programme.
To discover the most inspiring Success Stories supporting CBRN risk mitigation across the CoE network, visit the Success Stories page 
*Project 53: "Strengthening the National Legal Framework and Provision of Specialized Training on Bio-Safety and Bio-Security in Central Asian and South-East and Eastern European Countries"