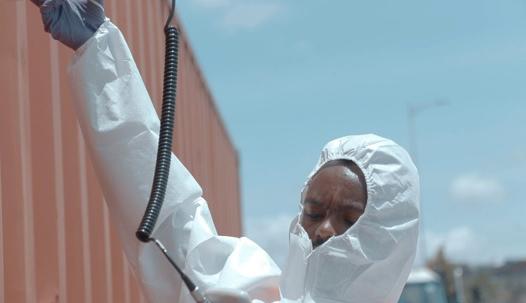 Radiological materials are used in a wide range of applications such as medicine, food and agriculture, industry, space exploration, or cultural heritage. If falling into the wrong hands, however, radioactive sources can pose severe risks to the environment and humans' well-being. This is why it is crucial to track the movement of the radioactive sources by reinforcing controls at national entry points, such as land borders and ports. A close collaboration with neighbouring countries it is equally important to better prevent potential illicit trafficking at regional level.
Mombasa is the largest seaport in Eastern Africa and it is equipped with portal monitors for the detection of radioactive and nuclear material. This makes it the ideal place to host a practical exercise involving representatives from Kenya, Ethiopia and Tanzania. From 12 to 15 September 2022, about 20 professionals from customs, border guards, nuclear regulatory and port security met to test and increase their capacities and share experiences against the illicit trafficking of radiological and nuclear agents.
The exercise began with an examination of the potential radiological and nuclear illicit trafficking scenarios in a seaport environment. Then the participants were asked to inspect a standard shipping container suspected to illegally carry a radioactive source. As the container's surface had been coated with artificial contamination, and a source was placed inside, the participants could experience a real life case and train to use the personal protection equipment (including dosimeters), operate different instruments for the detection and safe retrieval of radioactive materials, while applying specific operational procedures.  
Similar practical exercises are taking place in Ghana with the participation of DRC and Burundi; at land borders between Malawi and Zambia; and in Rwanda, with the participation of Uganda.
Supporting the enhancement of nuclear security in the Eastern and Central Africa region
The European Union supported the exercise for the prevention of illicit trafficking of radiological and nuclear materials in the Mombasa seaport as part of the EU CBRN CoE project 'Support to the Centre of Excellence of Eastern and Central Africa in Nuclear Security'.
Launched in 2016 across 11 Partner Countries (Burundi, Democratic Republic of Congo, Ethiopia, Ghana, Kenya, Malawi, Rwanda, The Seychelles, Tanzania, Uganda, and Zambia), the project implemented by the International Science and Technology Center (ISTC) and its contractor ENCO, in collaboration with SCK•CEN and STUK,  has delivered over 30 training events for more than 600 people achieving impressive results. The project has supported the drafting of inspections procedures and methodologies according to international standards, the establishment of safeguards teams, and the development of a dedicated Security Inspection Manual, which all countries have adopted.
To learn more about how the EU CBRN CoE is supporting the enhancement of nuclear security in Eastern and Central Africa, please visit the CoE Project 60 website.
Details
Publication date

25 October 2022

Authors
CBRN areas

Denying support for misuse and terrorism

Illicit trafficking

Import/export control

Protection of material/facilities

Safety and security

Transit and trans-shipment control

CBRN categories

Radiological

Nuclear

CoE Region

ECA - Eastern and Central Africa