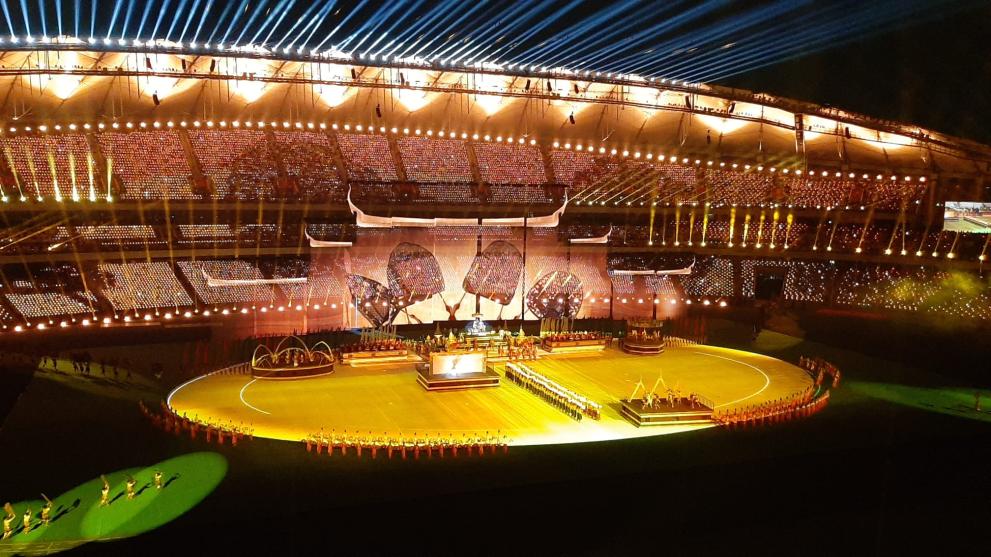 As hosts to this year's Southeast Asian Games (SEA Games) and ASEAN Para Games, the Kingdom of Cambodia has committed to ensuring a safe and secure sporting environment at Morodok Techo National Stadium and other critical sites that will gather large numbers of spectators from the country and the wider ASEAN region. One contingency that must be prepared for is the possibility of a chemical, biological, radiological or nuclear (CBRN) attack that could result in large numbers of causalities. Effectively responding to such an event requires multi-agency planning, training and exercising to ensure a rapid and coordinated response.
To address this need, the European Union CBRN Risk Mitigation Centres of Excellence Initiative (EU CBRN CoE), has, for the last six months, worked hand-in-hand with partners in Cambodia to help formulate national CBRN response plans and standard operating procedures, and to provide hands-on training for the country's multi-agency CBRN Response Team. The effort was led by Cambodia's National Authority for the Prohibition of Chemical, Nuclear, Biological and Radiological Weapons (NACW), Ministry of Defense, with the technical support of EU experts from Slovakia's International Security and Emergency ManagementInstitute (ISEMI).
On 31 March 2023, this long-term cooperation culminated in a high-level event to showcase Cambodia's CBRN Response Team's enhanced capacity to rapidly identify and respond to a potential CBRN attack at Morodok Techo National Stadium. Bringing together national authorities from NACW and relevant line ministries, alongside officials from the EU and the United Nations (UN), the exercise demonstrated a rapid and coordinated response between all relevant operational entities of the multi-agency CBRN Response Team, including front-line officers from NACW, the Police Security Department, the Police Fire Department, the National Gendarmerie, the Bodyguard Service of the Prime Minister, the Ministry of Health, and the Central Security Department of the Ministry of Interior.
The response training highlighted the importance of this technical cooperation, and underscored the EU's long-term commitment to strengthening CBRN risk mitigation capacity in Cambodia and the wider ASEAN region.
Advancing cooperation to strengthen CBRN risk mitigation
The European Union Chemical, Biological, Radiological and Nuclear Risk Mitigation Centres of Excellence Initiative EU CBRN CoE, jointly implemented by the EU and UNICRI, is working to build a safer and more secure world through cooperation with 64 Partner Countries across 8 regions.
The "SEA Games CBRN Response Training" featured in this article, supported by EU CBRN CoE Project 62, "On-Site Technical Support to the Regional Secretariat in Southeast Asia", represents an example of how ad hoc, tailored support is being mobilized to address urgent security challenges in EU CBRN CoE Partner Countries.
For more information on how the EU CBRN CoE is supporting the strengthening of CBRN risk mitigation in Southeast Asia, please see the Southeast Asia Regional Secretariat page
Details
Publication date

10 May 2023

Author
CBRN areas

Bio-safety/bio-security

Crisis management

First response

Post incident recovery

Protection of material/facilities

Public and infrastructure protection

Public health impact mitigation

Safety and security

CBRN categories

Chemical

Biological

Radiological

Nuclear

CoE Region

SEA - Southeast Asia